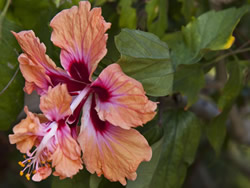 Cartagena has a tropical climate and experiences both wet and dry seasons. Due to its warm to hot temperatures year-round, it has a humidity averaging around 90%. Its climate tends to be warm and windy, the strongest winds being from November to February. The worst of the rains occur during April and May, but October and November can also bring significant down-pours. Temperatures vary little all year, averaging around 31°C (84°F), however, the months of March to July are the hottest. The geographic location of Cartagena means that it rarely experiences the hurricanes that hit other parts of the Caribbean.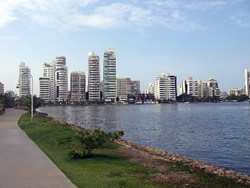 Whilst bordered by the Caribbean Sea to its north-west, it is largely protected to the north by the northern tip of Colombia, and to the south by Panama, Costa Rica and Nicaragua, placing it in a protected position from destructive winds. However, winds and high temperatures are a characteristic of the city and as such care should be taken to use adequate sun protection especially for children and whilst travelling by boat to the nearby islands.
Since the average temperatures don't change much, there is no real better or worse time to visit Cartagena. January and February are great months to visit, particularly if one of your goals is to remove yourself from bitter winter anywhere else, and head somewhere warm.