Best Beaches in Cartagena
Cartagena, a coastal gem in Colombia, offers many breathtaking beaches that cater to every traveler's taste. From vibrant and bustling shores to tranquil and secluded escapes, the beaches in and around Cartagena promise an unforgettable seaside experience. These are the most important and Best Beaches in Cartagena.
Bocagrande Beach
Located in the heart of Cartagena, Bocagrande Beach is a vibrant and popular spot among locals and tourists alike. This long stretch of golden sand is lined with high-rise hotels, trendy restaurants, and vibrant beach bars. The beach offers a lively atmosphere, with beachgoers soaking up the sun, enjoying water sports, and sipping refreshing cocktails. The crystal-clear turquoise waters invite you for a refreshing dip, and the soft sand is perfect for lounging under the warm Caribbean sun. Bocagrande Beach is easily accessible from downtown Cartagena, just a short taxi or bus ride away.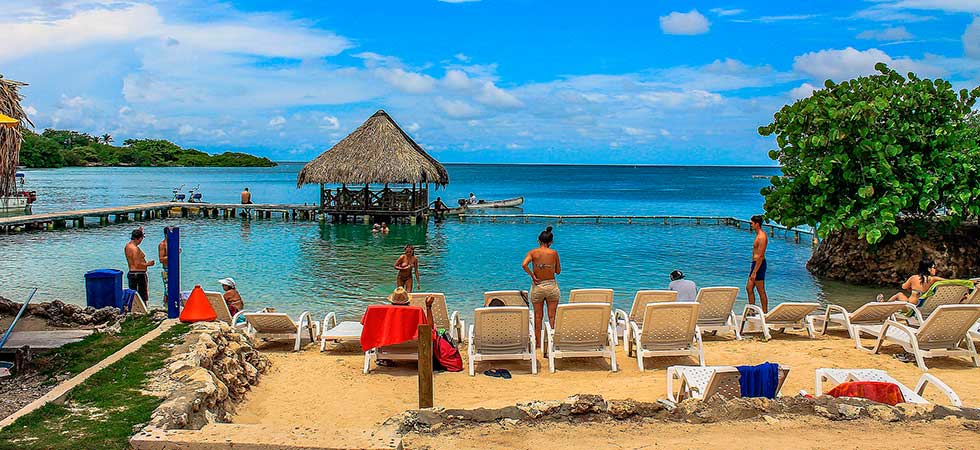 Playa Blanca
For those seeking a more serene and secluded beach experience, Playa Blanca is a hidden gem that shouldn't be missed. Situated on Baru Island, just a boat ride from Cartagena, this pristine beach boasts powdery white sand and calm, transparent, crystalline blue waters. Surrounded by lush vegetation and swaying palm trees, Playa Blanca offers a tranquil escape from the city's hustle and bustle. While there are no fancy restaurants or cafes (nor hotels), local vendors offer delicious seafood and refreshing coconut water. To reach Playa Blanca, you can take a boat tour from Cartagena's docks or arrange transportation through tour operators. However, due to the distance from downtown Cartagena and the travel time (approx. one hour), plan an entire day here.
Rosario Islands
Just off the coast of Cartagena lie the stunning Rosario Islands, an archipelago renowned for its mesmerizing beaches and vibrant coral reefs. Each island in the group has its own charm, offering visitors various options. Isla Grande is popular, featuring turquoise waters, white sand, and lush tropical vegetation. Isla Barú, part of the Rosario Islands, is another paradise-like destination known for its stunning beaches, including the famous Playa Azul. As the waters are crystal clear, this is an excellent spot for snorkeling, diving, and exploring the rich marine life. Day trips and organized tours are available from Cartagena, providing convenient access to these pristine islands. The boat ride is just under two hours from the city's shores. You will find incredible, un-spoilt beaches with abundant exotic flora and fauna, a few hotels, and excellent seafood restaurants.
Playa de Punta Arena
Located on "Isla Tierra Bomba" – a large island less than ten minutes away from the city - just a short boat ride from Cartagena, Playa de Punta Arena is another hidden gem waiting to be discovered. This secluded beach offers a tranquil ambiance, perfect for those seeking peace and relaxation. The sand is soft and powdery, inviting you to stroll along the shore or lounge in comfortable beach chairs. The clear, calm waters are ideal for swimming and snorkeling, allowing you to discover the vibrant underwater world.
Although there are no restaurants or cafes on the beach, you can bring snacks and drinks or arrange a picnic. Regular boats depart from Cartagena's docks, making it easily accessible for a day trip. With sandy beaches, azure waters, and spectacular views back towards the city's skyscrapers of the Bocagrande neighborhood, Playa de Punta Arena is very different from the urban beaches nearby and one of the Best Beaches in Cartagena.
Castillogrande
Castillogrande is located on the peninsula of Bocagrande in the heart of Cartagena. This beach in Cartagena is a touch more exclusive and upmarket than the other beach. However, at the same time, it is also more peaceful and laid-back. The sea here is very clean and perfect for swimming, and there's more space to enjoy the beach.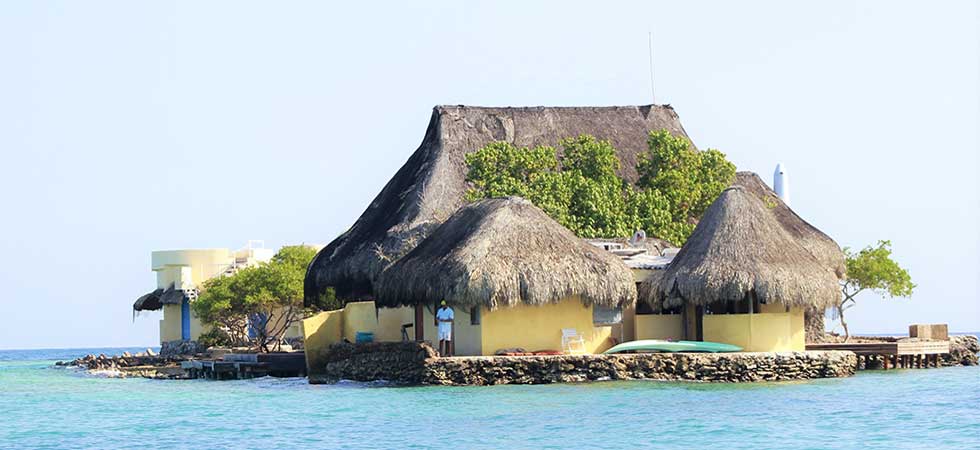 La Boquilla & Manzanillo
A short 25-minute bus ride is La Boquilla Beach; another 35 minutes away, you will find Manzanillo Beach. Both are good beaches with safe waters with brown sand beaches as they are some distance away from the coral reefs that create white sand beaches.
La Boquilla has become increasingly popular with foreign tourists, but locals have been coming for many years. The beach might be less visually attractive than others, but it's perfect for anyone looking to spend some beach time away from the crowds. If you are interested in nature, you can make a boat tour of the nearby mangroves.
Manzanillo del Mar
The Manzanillo del Mar beaches are the farthest mainland beaches from the urban area of Cartagena and, as a result, the most relaxed and tranquil stretches of sand near Cartagena. Close to a little town of the same name you can enjoy large and beautiful swathes of sand and sea, with very few tourists in sight. Make sure to catch Playa de Oro.
The stunning Beaches of Cartagena offer a remarkable blend of natural beauty, a vibrant atmosphere, and serene hideaways. So whether you're looking for a lively beach experience with bustling restaurants and bars or a tranquil escape to enjoy the serene Caribbean waters, Cartagena has it all. With Bocagrande Beach, Playa Blanca, the Rosario Islands, and Playa de Punta Arena, you'll be surrounded by stunning landscapes, pristine sands, and crystal-clear waters.