Shopping in Cartagena
Shopping in Cartagena is a delightful experience. The city has many shops, boutiques, and markets where visitors can find unique and authentic souvenirs, clothing, accessories, and more. So whether you're looking for a special gift to bring back home or want to indulge in some retail therapy, Cartagena has something for everyone.
Cartagena is a true shopper's paradise, offering a wide range of options, from high-end luxury boutiques or local artisanal markets... there's something for everyone in this vibrant city. Visit some of the recommended neighborhoods and streets to make the most out of your shopping experience in Cartagena!
The best neighborhoods for shopping in Cartagena are the historic city center, Getsemani, and Bocagrande. Here are some of the top places to check out during your shopping excursion: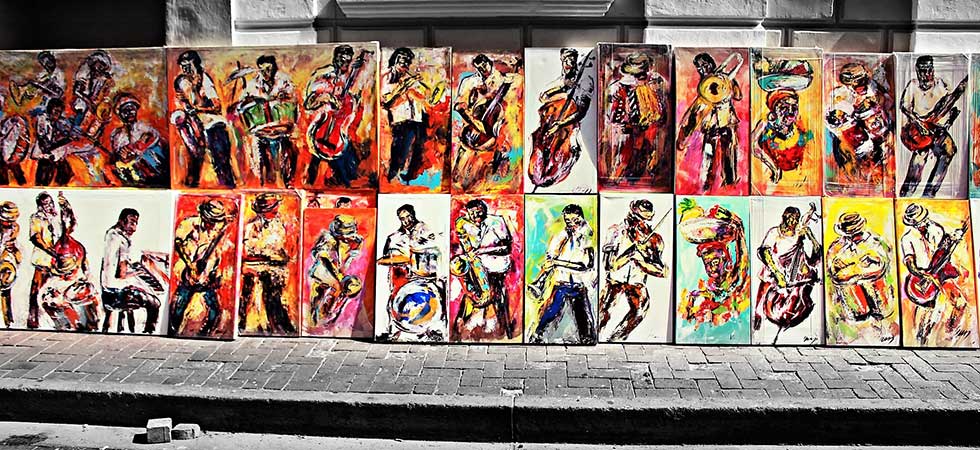 Historic City Center
The historic city center is a charming area full of colonial architecture, colorful buildings, and narrow streets, perfect for wandering around and exploring. Some numerous shops and boutiques offer a wide range of products, from artisanal handicrafts to designer clothing.
Las Bovedas:
This is a must-visit for anyone looking for souvenirs to take back home. Las Bovedas is a series of 23 arches originally built as dungeons but now house souvenir shops. Visitors can find everything from handmade crafts to Colombian coffee and cigars.
Casa Chiqui:
A lovely boutique shop that sells handmade clothing and accessories made by local artisans. The shop is in a beautifully restored colonial house, and the products are of the highest quality.
Casa de la Cerveza:
If you're a beer lover, then Casa de la Cerveza is the place to go. This shop sells various craft beers from Colombia and around the world.
Artesanias de Colombia:
This government-run store sells high-quality handmade crafts from all over Colombia. Visitors can find beautiful pottery, textiles, and jewelry, among other things.
Getsemani
Getsemani is a vibrant neighborhood with street art, music, and culture. It's also a great place to shop for unique and quirky items.
Plaza de la Trinidad
This lively square surrounds restaurants, bars, and shops. On weekends, there is a flea market where visitors can find vintage clothing, handmade crafts, and other eclectic items.
Casa en el Agua
This fun and quirky shop sells handmade swimsuits, clothing, and accessories. The shop is located on a boat in the middle of the ocean and can only be accessed by boat.
St. Dom
This shop sells high-quality leather bags, shoes, and accessories that are made in Colombia. The products are made using traditional techniques and are of the highest quality.
Bocagrande
Another great neighborhood for shopping in Cartagena is Bocagrande. Located just a short taxi ride from the historic center, this modern neighborhood is known for its high-end shops and luxury boutiques. Bocagrande is a popular destination for tourists who want to go shopping in Cartagena, since it's a great place to shop for luxury items and designer clothing.
One of the most popular shopping centers in Bocagrande is the Plaza Bocagrande. This three-story shopping center offers a wide range of stores, including local boutiques and well-known international brands. You can go here for clothing, jewelry, electronics and souvenirs.
Caribe Plaza
This large shopping mall has a wide range of stores, including international brands like Zara and Nike.
Centro Comercial Nao
This shopping mall has a wide range of stores, including a large supermarket and a movie theater.
La Serrezuela
This recently restored historic building now houses a luxury shopping mall. You can find high-end brands like Louis Vuitton, Gucci, and Cartier, as well as local designers.
Mercado Bazurto
For those looking for a more local shopping experience, Mercado Bazurto is a must-visit destination. This bustling market is located in the heart of Cartagena and offers a wide range of products, from fresh produce and seafood to handmade crafts and souvenirs. You can spend hours browsing the stalls and interacting with local vendors, making it a great way to experience the authentic culture of Cartagena.
Street vendors
Street vendors are everywhere within the walled areas of the city. Many of these sell emeralds, however, care should be taken when purchasing emeralds, either loose or set in jewellery from these vendors. Emeralds are a popular item in the city as 98% of the world's emeralds are mined in Colombia. However, we recommend you buy from a reputable jeweller with a certificate of authenticity. Museum gift shops or jewellry shops are good places to purchase authentic items. Here may be slightly higher than in other places but these items are guaranteed genuine.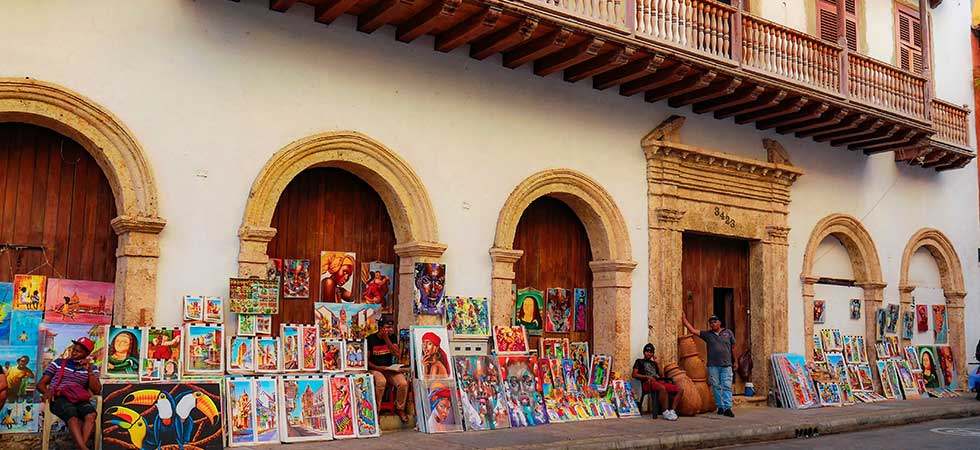 Popular Colombia Souvenirs from Cartagena
In Cartagena you can find many souvenirs and items that capture the city's essence. Some popular items include colorful woven textiles, traditional Colombian hats known as "sombreros vueltiaos", and handmade jewelry.
Here are some more typical articles you might want to buy in Cartagena:
Handmade jewelry:
Cartagena is famous for its jewelry made from filigree and other traditional techniques. Visitors can find beautiful earrings, necklaces, and bracelets made from gold and silver.
Emeralds:
Colombia is known for its emeralds, and Cartagena has many jewelry stores that sell them. However, be cautious when buying emeralds, and only purchase from reputable sellers to ensure the quality of the gemstone.
Handmade Crafts:
Cartagena is home to many talented artisans who create beautiful handmade crafts, including ceramics, pottery, and textiles. The Las Bóvedas shopping complex is a great place to find these unique items.
Hammocks:
Colorful and comfortable hammocks are a popular item to buy in Cartagena. You can find them in markets, shops, and street vendors throughout Cartagena.
Wayuu Bags:
Wayuu bags are traditional handmade bags from the Wayuu people, an indigenous group in Colombia. These bags come in various sizes, colors, and designs, and are popular among tourists and locals alike.
Panama Hats:
Panama hats are not actually from Panama, but from Ecuador, and they are a popular item to buy in Cartagena. They are perfect for protecting yourself from the hot Caribbean sun and many shops throughout the city offer them.
Colombian Rum:
Colombian rum is a delicious souvenir to bring home, and there are several brands that are popular in the region, such as Ron Medellín and Dictador.
Mochilas:
Mochilas are colorful and intricately designed bags made by the Wayuu people. Many stores and markets sell them.
Colombian Cigars:
Colombian cigars are high-quality and often less expensive than Cuban cigars. Brands such as La Carolina and La Aurora are popular and are offered in specialty shops throughout the city.
Colombian Chocolate:
Colombian chocolate is known for its rich and intense flavor, and many artisanal chocolate shops in Cartagena sell chocolate. Brands such as Cacao de Origen and Chocolate Santander are popular and make great gifts.
Colombian Coffee:
Coffee is one of the most popular souvenirs to bring home from Colombia, and Cartagena has plenty of options for buying high-quality beans. You can find them in specialty coffee shops, local markets, or the airport.
Colombian coffee is also a speciality, not only to purchase in shops, but also to sample in the many attractive street cafes. Enjoy browsing through the intriguing shops that line the ancient narrow streets of Cartagena and around the beautiful plazas before you pause for a delicious Colombian coffee sat in a plaza café.
Other popular souvenirs from Cartagena include gold, antiques, ceramics, textiles, designer swimwear and hammocks. You can find many of these items in various markets and boutiques throughout the city, but a great place to start is the Centro Artesanal de las Américas. This large artisanal market is in the Getsemaní neighborhood and offers a wide range of locally made products at affordable prices. In addition to the traditional individual shops, the city has some good modern shopping plazas including the Pierino Gallo Plaza which is an excellent place to find those 'reputable' jewellers shops.