Colombian Food
Colombian cuisine is a vibrant and diverse fusion of flavors, spices, and cultures. From hearty stews and soups to savory meats and fresh seafood, Colombian food offers something for everyone. Whether you're a foodie looking to explore new tastes or just someone who loves a good meal, Cartagena is the perfect place to dive into the world of Colombian Food.
Colombian cuisine is heavily influenced by the country's diverse cultures, including African, indigenous, and Spanish. This fusion of flavors and techniques has created a unique culinary landscape that's both delicious and diverse. Whether you're dining in a fancy restaurant or sampling street food, Colombian food will delight your taste buds and leave you craving more.
One of the must-try dishes in Cartagena is the bandeja paisa, a traditional platter that features a variety of hearty components, including beans, rice, ground beef, chorizo, chicharrón, avocado, and fried egg. It's a filling and satisfying meal that's perfect for a day of exploring the city. Bandeja Paisa is a must-try for meat lovers.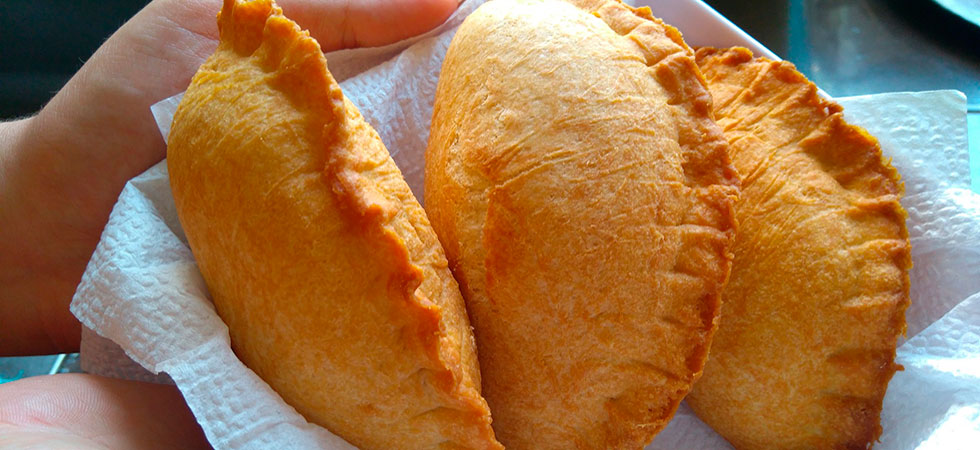 Colombian streetfood: Arepas & empanadas
If you're looking for street food, make sure to try the arepas, a type of flatbread that's filled with cheese, meat, or vegetables. They are a popular snack in Colombia and are often eaten on the go. Another street food staple is the empanada, a fried or baked pastry that's filled with a variety of ingredients, including meat, cheese, and vegetables.
Empanadas are a popular snack and can be found all over the city. Colombian empanadas are hailed as some of the tastiest in Latin America. This traditional dish, which originated as Colombian street food, consists of a dough pocket filled with a variety of ingredients such as beef, chicken, vegetables, potatoes, cheese, spices, and other delectable fillings. Colombian empanadas are a favorite snack enjoyed by both locals and tourists alike. Not only are they tasty and adaptable, but they are also quite inexpensive and simple to prepare. So if you're seeking a delightful snack with a plethora of flavors, Colombian empanadas should be at the top of your list.
Colombian desserts
For those with a sweet tooth, don't miss out on the chance to try postre de natas, a traditional dessert made with milk, sugar, and cinnamon. It's creamy and delicious, and perfect for a hot day in Cartagena. Another popular dessert is the tres leches cake, a light sponge cake soaked in three types of milk and topped with whipped cream. Another popular dish is the arroz con coco, a delicious coconut rice dish that's often served with fresh seafood.
Colombian coffee
In addition to the food, Colombia is also known for its coffee. Colombian coffee is renowned for its rich, smooth flavor and is considered some of the best in the world. Make sure to try a cup while you're in Cartagena, and if you want to bring some home, there are plenty of local coffee shops and markets where you can buy freshly roasted beans.
Colombian fruits
Colombia has a tremendous number of tropical fruits available. You can buy the typical fruits that are also available in Europe and North America (like apples, bananas, pineapples and strawberries) but there is also an incredible amount of tropical fruits.
Colombia is truly a paradise for fruit enthusiasts, offering a wide array of delicious and exotic tropical fruits that may be hard to come by in North America or Europe. The country boasts an incredible variety of tropical fruits that are both mouthwatering and abundant. Travelling in Colombia comes with the added benefit of easy access to these delightful tropical treats, which are not only incredibly tasty but also affordable.
With its remarkable biodiversity, Colombia stands as the second most bio-diverse country globally, right after Brazil. The country's diverse geography, featuring two coastlines, majestic mountain ranges, expansive savannas, and lush tropical rainforests, contributes to its rich natural heritage. In fact, Colombia is known to host nearly 10 percent of the world's species, with over 56,000 registered plant species alone.
Given this incredible natural abundance, it's no wonder that Colombia boasts an impressive selection of tropical fruits. Exploring the local markets and groves reveals a treasure trove of flavors and textures, allowing you to indulge in a truly unique fruit experience. Some typical Colombian fruits include Arazá, Badea, Banana Bocadillo, Borojó, Caimito, Carambolo, Cherimoya, Chontaduro, Curuba, Granadilla, Guaba, Guanabana, Maracuyá and more.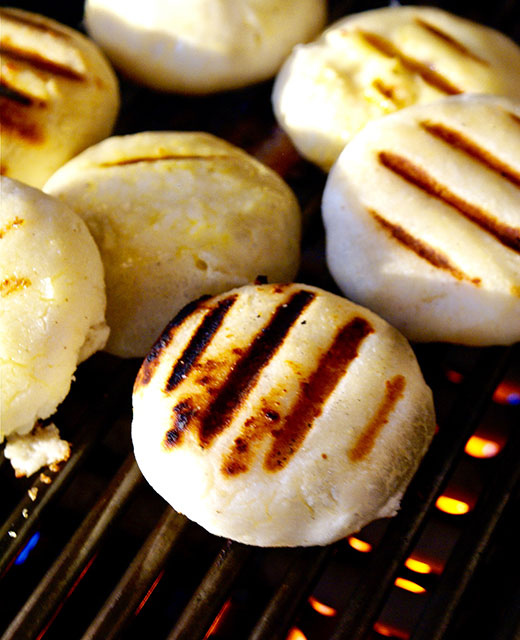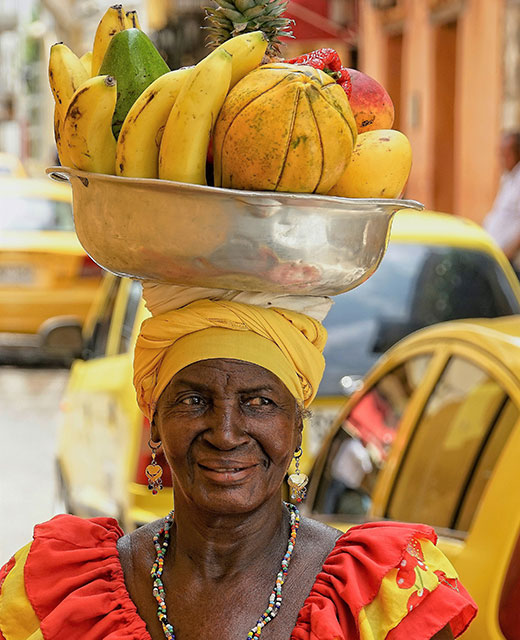 More Colombian dishes
Ajiaco
A hearty soup made with chicken, potatoes, corn, and a local herb called guasca. Ajiaco is a comfort food staple and can be found in many local restaurants.
Patacones
Patacones are fried plantains that are usually served as a side dish or snack. Patacones can be enjoyed with a variety of toppings such as cheese, guacamole, or hogao (a tomato and onion sauce).
Changua
A simple breakfast soup made with milk, scallions, and poached eggs. Changua is a popular breakfast dish and is often eaten with arepas.
Ceviche
Fresh seafood marinated in lime juice and served with onion, tomato, and cilantro. Ceviche is a popular dish in coastal regions and can be found in many seafood restaurants. Generally speaking, in Cartagena, you may find more seafood-based dishes due to its coastal location, then in other parts of Colombia.
Fried Fish Plate
This is classic Colombian coastal dish, commonly found in Cartagena. The fish is usually a mojarra roja (tilapia) fried to a golden crisp, served with coconut rice and patacones: fried plantain patties.
Cazuela de Mariscos
Cazuela de Mariscos is a seafood stew popular in Cartagena. It consists of shrimp, calamari, and clams or fish cooked with coconut milk, served with coconut rice and patacones.
Posta Negra
Posta Negra is a comfort food that originated in Cartagena. This beef dish is similar to a roast and is served with a sweet and savory sauce made with panela, unrefined brown cane sugar, Worcestershire sauce, and sometimes Coca-Cola. Posta Negra is a unique example of Cartagena's working-class culinary heritage and is still offered in many of the city's finest restaurants today.
Arroz de mariscos
Also known as arroz marinera, this is is a seafood rice dish that features shrimp, clams, fish, and calamari. Similar to a paella, arroz de mariscos is cooked together and tends to be a wetter rice. This local dish is a must-try for anyone visiting Cartagena.
Lechona
A whole roasted pig stuffed with rice, peas, and spices. Lechona is a traditional dish from the Tolima region of Colombia and is often served at festivals and special occasions.
These are just a few examples of the delicious food you will try while visiting Cartagena. Colombian food is diverse and varies from region to region, so there is always something new to discover. Don't be afraid to try new dishes and explore the local Colombian street food scene, as it's often where you can find some of the most delicious and authentic Colombian food. Bon appétit!