Learn Spanish in Cartagena, Spanish Schools in Cartagena
Cartagena is a beautiful, vibrant, and historical city. Cartagena is also one of Colombia's top destinations for a Spanish immersion course. If you have extra time before you continue your travels in Colombia, why not invest that time in taking Spanish classes in Colombia? You'll be surprised that after only a few hours of study, you'll be able to speak and understand the essential aspects of the language. Having a little Spanish knowledge is a great confidence boost and the perfect way to feel more immersed in Colombian culture. In addition, the locals love to hear you trying out your skills, and some may even stop you in the street to practice a few words of English with you! This is a great way to integrate and better understand many aspects of Cartagena's daily life. If you already speak Spanish, you can improve your Spanish and take Spanish lessons at intermediate and advanced levels.
Learn Spanish in Cartagena
In Cartagena several Spanish Schools explicitly teach visitors the essential aspects of the Spanish language. Their methodology uses interactive learning methods to create a fun and fast-track way of learning. Most Spanish classes are in small groups of people of all ages who are at the same level, and are usually for 20 hours per week, beginning every Monday. However, this is only a guideline, different schools may vary their teaching hours and many offer individual or family classes. Whatever your needs, there will be a school offering the perfect package for you.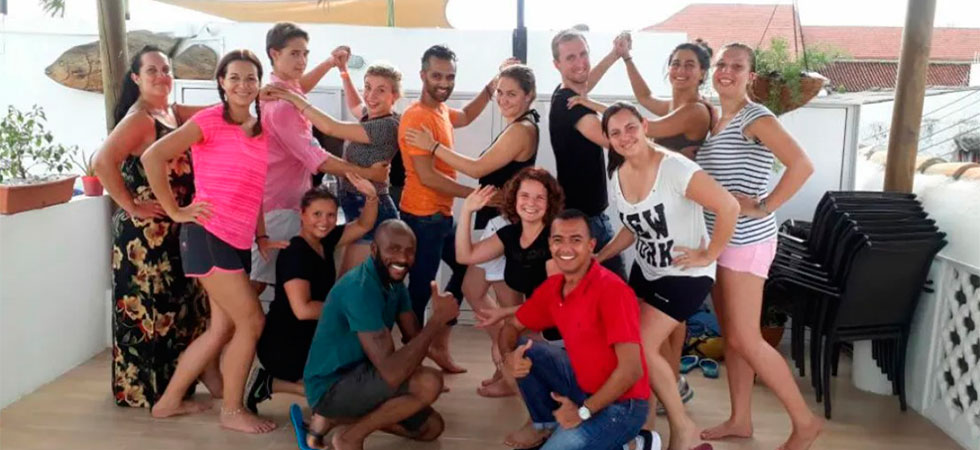 Spanish Schools in Cartagena
Spanish school 1: Nueva Lengua
Nueva Lengua Spanish School receives students of all ages from all over the world. They run Spanish courses at all levels, from beginners to advance, as well as specialized Spanish courses, like Spanish for business and Medical Spanish. They also offer a range of Spanish classes combined with interests such as volunteering, dancing, and various sports. Nueva Lengua also runs Spanish schools in Medellin and Bogotá.

Address:
Callejón Anccho
Calle 28, No 10B-52
Barrio Getsemaní
Web
Spanish school 2: Santa Catalina
Centro Catalina Spanish School gives you an authentic so that you feel and live the cultural and Spanish immersion in Colombia. Learning Spanish and discovering Colombia is about the culture, meeting people, trying new things, and living new experiences. They offer Spanish classes for all ages; all students are welcome to live this experience and learn Spanish in Cartagena with us in a friendly atmosphere.

Address:
Cl. 38 #9-21, San Diego,
Cartagena de Indias
Spanish school 3: Ecos
ECOS Spanish School is also located in the "Jewel of the Indies" in Cartagena. Housed in a modernised building in the Manga quarter of the city, students are within walking distance of restaurants, cafés, local shops, and sites such as the Casa Roman. The school offers different types of Spanish immersion classes for r international students and a variety of options for accommodation: homestay, shared, or studio Apartments. In addition, activities such as cooking classes and salsa dancing are regularly available as excursions in and around Cartagena.

Address:
Manga, Carrera 17 # 16-05
Cartagena de Indias