Accommodation in Cartagena
Welcome to the vibrant city of Cartagena, Colombia, where finding the perfect accommodation is an essential part of planning your trip. With its rich history, stunning architecture, and captivating culture, Cartagena attracts visitors from all around the world. There is a diverse range of accommodation options available in Cartagena, highlighting the city's nicest neighborhoods.
Where to stay in Cartagena
Cartagena offers a variety of neighborhoods, each with its own unique charm and appeal. A great place to stay is in the historic walled city, known as the Old Town, is undoubtedly one of the most popular areas for tourists. Here, you'll find cobblestone streets, colonial architecture, and a vibrant atmosphere filled with shops, restaurants, and historical landmarks. Staying within the walls allows you to immerse yourself in the city's history and be in close proximity to many of its main attractions.
Another popular neighborhood is Getsemaní, located just outside the Old Town. Getsemaní has a bohemian vibe and is known for its colorful streets, vibrant street art, and lively nightlife. This neighborhood offers a more affordable range of accommodation options while still being close to the action. E.g. Casa El Carretero, a 4 star boutique hotel, is a good base from which to explore this area. It was once a Spanish Colonial home but today has been transformed into a beautiful hotel whilst retaining its traditional and unique features.
If you're seeking a more upscale experience, the Bocagrande area is worth considering. This neighborhood is known for its high-rise hotels, beautiful beaches, and modern amenities. Bocagrande offers a luxurious atmosphere and is a great choice for travelers looking to indulge in upscale accommodation and beachfront relaxation. A great example is hotel Caribe. This 5 star colonial hotel has extensive grounds filled with exotic plants and trees that run directly onto the beach. This traditional hotel offers an exceptional standard of accommodation and service to make your stay in Cartagena a most memorable experience.
A more budget option in Bocagrande is hotel Bahia, approximately 100 meters from the beach and 5 minutes-walk from the walled area of the city is hotel Bahia, is a good budget option accommodation with simple but all the necessary facilities. It has nice gardens, sun terraces and a pool, and is located within 10 minute-drive from the main city airport.
Accommodation prices in Cartagena
When it comes to pricing, Cartagena offers options for various budgets. The Old Town tends to have higher-priced boutique hotels, upscale resorts, and charming guesthouses. Getsemaní offers more affordable boutique hotels, budget-friendly hostels, and guesthouses with a local touch. Bocagrande tends to have higher-end hotels and resorts, catering to travelers seeking luxurious amenities and beachfront locations.
Tips to find the best Accommodation in Cartagena
Book in advance:
Cartagena is a popular tourist destination, especially during peak seasons. To secure your preferred accommodation, it's advisable to book well in advance.
Read reviews:
Before making a reservation, take the time to read reviews from previous guests. This will give you valuable insights into the quality, cleanliness, and overall experience of the accommodation.
Location:
Consider the location of your accommodation and its proximity to the attractions and areas you plan to explore. Staying within or near the Old Town provides easy access to historical sites, restaurants, and vibrant street life.
Services included:
Determine what amenities and services are important to you. Some accommodations offer features like swimming pools, rooftop terraces, on-site restaurants, and spa facilities. Prioritize your preferences to ensure a comfortable and enjoyable stay.
Safety:
While Cartagena is generally a safe city, it's always wise to choose accommodations with good security measures, especially if you're traveling solo or have specific safety concerns.
Accommodation options in Cartagena:
Luxury Hotels:
Sofitel Legend Santa Clara, Casa San Agustin, and Hotel Charleston Santa Teresa are renowned for their elegance, top-notch service, and historic charm.
Hotel Charleston is 17th century convent is today a magnificent and elegant world class hotel with all the facilities you would expect from a high range accommodation. Indulge yourself in luxury whilst you explore this exciting city.
Boutique Hotels:
Casa Pestagua, Casa San Pedro Hotel Boutique, and Hotel Quadrifolio offer a blend of colonial architecture, personalized service, and intimate settings.
Budget-Friendly:
El Viajero Hostel, Media Luna Hostel, Casa Villa Colonial and Casa Viena provide affordable dormitory and private room options for budget-conscious travelers.
Casa Viena is a small, Fair Trade, family run hostel that is situated in the historical area of the city approximately 7 minute-walk from the beach. The hostel offers lots of free services such as tea and coffee, wi-fi, free local calls and travel advice and information. In addition, it has a book exchange, post restante and guest safety boxes. It prides itself in its friendly, attentive service and is a great budget option.
Casa Villa Colonial is ideally situated in the Getsemani area, this excellent value, family run hostel is clean, safe and secure. The variety of room options are arranged around a two storey court-yard and there is air-conditioning and WIFI.
Unique Stays:
For a memorable experience, consider booking a stay in a traditional Spanish colonial house, known as a "Casa Pombo," or a stylish Airbnb apartment in the heart of the Old Town. These unique accommodations offer a glimpse into Cartagena's rich history and provide a truly immersive experience.
When searching for accommodation in Cartagena, it's also worth considering the type of experience you're seeking. Are you looking for a quiet retreat, a beachfront escape, or a vibrant neighborhood filled with local culture? This will help you narrow down your options and find the perfect fit for your travel preferences.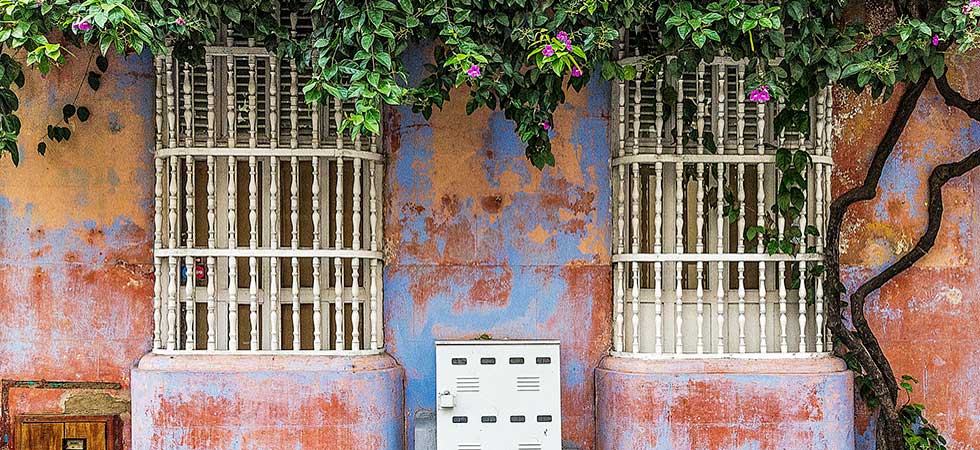 Extra Tips to make the most out of your stay
Explore local alternatives:
In addition to hotels and traditional accommodations, Cartagena offers a range of Airbnb rentals and vacation homes. These options can provide more space, privacy, and the opportunity to live like a local.
Engage with your hosts:
Many accommodations in Cartagena are family-owned guesthouses or boutique hotels, where the hosts are passionate about sharing their city with visitors. Take the time to interact with your hosts, seek their recommendations, and learn about the local culture.
Embrace the local Colombian cuisine:
Some hotels in Colombia offer on-site restaurants or breakfast services where you can savor traditional Colombian dishes. Don't miss the opportunity to try local specialties such as arepas, ceviche, and the famous Colombian coffee.
Enjoy the nightlife in Cartagena:
Cartagena comes alive at night, offering a vibrant and energetic nightlife scene. Ask your accommodation for recommendations on the best bars, clubs, and live music venues to experience the city's lively after-dark entertainment.
As you see, Cartagena offers a diverse range of accommodation options to suit every traveler's preferences and budget. From luxury hotels to boutique guesthouses and unique Airbnb rentals, there is something for everyone. With careful planning, you can find the perfect place to stay and create unforgettable memories in the enchanting city of Cartagena.