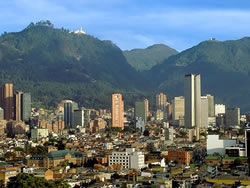 Bogotá is a city counting on 8 million inhabitants and under constant growth. It's a very diverse and multicultural city, with people coming from all over Colombia, South America and the world to live here!  Residents of Bogotá are very proud of their city, and notoriously welcoming and friendly towards visitors.
In this city you will find beautiful colonial, republican houses and modern buildings. There are more than 50 museums such as the Gold Museum, the National Museum, the Botero donation, the Silva Poetry House, Bolivar's House, Maloka Scientific Center, the Modern Art Museum, the Columbus Theater, The Luis Angel Arango Library and others.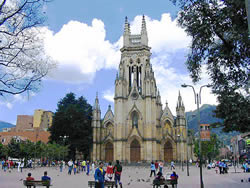 Bogoteños are very passionate about their sport, particularly football, and as such opportunities to practice sports are enormous.  One sporting event particularly worth mentioning is the Bogota bicycle race, held every Sunday on a circuit that comprises of hundreds of streets cordoned off for the race.  You can even take part in this race!  Every weekend more than one million people use this service.
Nearby you will find the Guatavita lagoon, where the legendary lost city of gold 'El Dorado' is supposed to be.  When the Spansh arrived in Colombia they didn't find as much gold as expected, and suspected that the locals had hidden it.  Other places of interest near to the city include the Salt Cathedral of Zipaquirá, the Neusa lagoon and thousands of country side restaurants where the Bogotans go out for lunch to enjoy natural landscapes during weekends