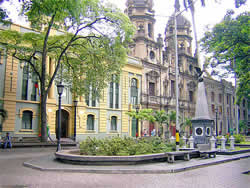 With nearly 3 million inhabitants, this is the second largest city in Colombia.  It has a beautiful location, spreading throughout a deep valley between mountain peaks at 1,550m above sea level.  The climate is mild, with pleasant warm weather all year round. , for this reason it is often referred to as "city of the eternal spring"
Walking around Medellin is an enormous pleasure, as it is vibrant, lively and well Bogota developed without being too big.  Key places are close together and easily connected by its integrated transportation system and the Metro or "Urban Train".  It has considerable industry and commerce, which help it to be a wealthy city.  It's the perfect place to go shopping, with a huge number of malls offering a variety of national and imported merchandise.  Experts in gardening have created some beautiful botanic gardens within the city.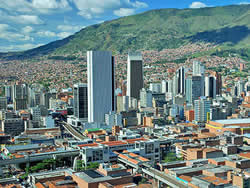 The building of Medellin are a real mix of new age architecture with the old colonial style In many parts of the city the republican style of the Belle Époque still dominates the architecture of palaces, train stations, cathedrals, mansions and public buildings Beautiful examples of new concept architecture include the Metropolitan Theater, the José María Córdova airport and the Intelligent Building of the Public Enterprises of Medellin.
The Museum of Antioquia houses one of the most complete displays of painting and sculpting of Colombian artist Fernando Botero. The Modern Art Museum and The Castle offer as well interesting collections.
Medellin's festival calendar is packed full of interesting events, January and February is bullfighting season; in April and May there is an international orchid fair; there is a prestigious tango festival in June; an exposition of fine horses in August, a world renowned international flower fair in August, a high fashion design contest during September, and last but not least Medellin's magical Christmas festivities throughout December.