Transport in Cartagena, Colombia
Airport

If arriving to Cartagena by air, you will fly into Rafael Núñez International Airport. This is situated in the neighborhood of Crespo, to the north of the historical centre of the city. Most South American airlines fly in and out of Rafael Núñez in addition to a number of international airlines.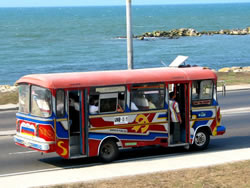 Buses

An excellent bus service operates within the city, covering an extensive system of routes including a service to and from the airport. Many travel agents and hotels have free bus route maps to help you find your way around the city. There are designated stops for buses but most drivers will stop if you wave them down. The same applies when getting off the buses. During the week buses run from 5.30am to 11pm, at weekends from 6.00am to 10pm.
Colectivos

These are taxis that run on a 'shared' basis. They collect up to 4 passengers on popular routes, dropping off where necessary. As this is a shared service, the cost is less than that of a private taxi.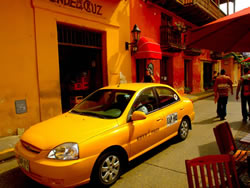 Taxis

Taxis are available all over the city and can be taken from taxi stands or hailed from just about anywhere. All registered taxis (that is those with an identification number on them) are clean and safe. They run to all areas of the city including to and from the airport and are available 24 hours per day, seven days per week.
Motos

These are motorcycles that will collect a single passenger and take them to their desired location. They operate all over the city and due to their size can often avoid traffic jams thus get you to your destination much faster. They operate 24 hours per day, but be warned, they are not for the faint-hearted!.