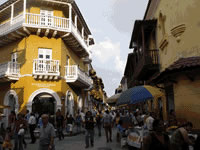 Shopping in Cartagena is a unique experience and one that simply cannot be avoided! Street vendors are everywhere within the walled areas of the city. Many of these sell emeralds, however, care should be taken when purchasing emeralds, either loose or set in jewellery from these vendors. Emeralds are a popular item to buy whilst in the city as 98%; of the worlds emeralds are mined in Colombia. However, it is advisable to make these purchases from a reputable jeweller with the accompaniment of a certificate of authenticity.
Other good places to purchase authentic items are in Museum gift shops, here prices here may be slightly higher than in other places but these items are guaranteed to be genuine.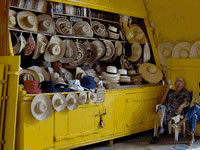 Other popular items include gold, antiques, ceramics, textiles, hand-rolled Cuban cigars, designer swimwear and hammocks. Colombian coffee is also a speciality, not only to purchase in shops, but also to sample in the many attractive street cafes. Much time can be pleasantly passed browsing through the intriguing shops that line the ancient narrow streets and around the beautiful plazas then pausing for a delicious Colombian coffee sat in a plaza café. In addition to the traditional individual shops, the city has some good modern shopping plazas including the Pierino Gallo Plaza which is a good place to find those 'reputable' jewellers shops.