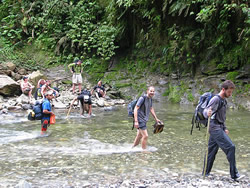 La Ciudad Perdida lies deep in the jungle of Sierra Nevada de Santa Marta, in the far north of Colombia near to the border with Venezuela.  The city was believed to have been founded in around 800A.D. – some 650 years before Machu Picchu in Peru! 
Incredibly, these ruins were left undiscovered until 1972, when some local treasure looters stumbled upon a series of stone steps rising up the side of the mountain.  They followed them to find the abandoned city.  When gold figurines and urns began to appear in the local black market, the authorities investigated and discovered the site in 1975.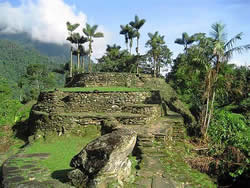 This is a very mystical site linked to lots of local myths and legends, but nobody actually knows its full history.  Local tribes call the city Teyuna, and believe it was the centre for their forbearers the Tairona people.  The city is fairly large, it appears to have housed between 2 and 8 thousand inhabitants.  Evidence suggests that the city was abandoned around the time of the Spanish conquest, probably in similar circumstances to Machu Picchu.
The trek begins from Santa Marta, and involves 3 full days of hiking through dense jungle to reach the Lost City, a full day and 2 nights at the ruins and trekking back.  The trekking is hard going, due to the warm humid jungle climate and badly maintained trails.  But the end result is more than worth the trek.  And hiking through the jungle is a magical experience in itself, surrounding by towering trees, lush vegetation, and many rare and beautiful jungle animals and insects.
Below you can find more details on the exact program of the trek:
Day 1: National flight Bogota Santa Marta, night in a hotel on the beach
Day 2: Begin trekking
Day 3: Trekking
Day 4: Arrival to la Ciudad Perdida
Day 5: Day spent at la ciudad Perdida, tour of ruins with professional bilingual guide.
Day 6: Trekking back to Santa Marta
Day 7: Arrival to Santa Marta & a night in hotel
Day 8: Transfer to airport and flight to Bogota.