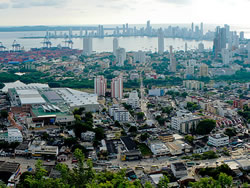 According to archaeologists, the first settlements around the coasts of Cartagena were in the pre-Colombian period around 7,000BC. Fragments of ceramic and stone utensils for domestic use and for hunting have been found in the area suggesting that this was a favourable area of settlement probably due to its mild climate and abundance of wildlife which would be a reliable food-source. Evidence suggests that up until around 1000BC, agriculture was the prime activity amongst the indigenous.
Around the year 1,500 saw the evolvement of the 'sinú' civilization and the development of the indigenous 'Karib ' language. In 1501 Rodrigo de Bastidas arrived in the bay, naming it 'Bahía de Baru ', however, since the topography was very similar to that surrounding Cartagena on the Spanish Mediterranean coast, it was later decided to rename it 'The Bay of Cartagena '. In 1533 at the beginning of the Colonial period, Pedro de Heredia, the Spanish commander founded the city and gave it the name 'Cartagena de Poniente '(meaning Cartagena of the West). However, it was later renamed 'Cartagena de Indias ' (Cartagena of the Indies). At that time it was home to a population of around 2,000 but grew rapidly as the city became a important port, and trading centre between the Americas, the Caribbean and Spain.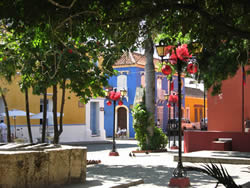 The wealth of the city grew along with its population and became a target for pirates and bandits associated with British sea captain Sir Francis Drake. Between the years of 1544 and 1586, the city suffered repeated attacks and severe looting by both British and French invaders. As a result, it was decided to fortify the city; the largest fortification in the whole of South America and a great proportion of this construction still exists today.
1741 saw over 180 ships fight in the 'Battle of Cartagena ' with the English Armada. The following years saw the struggle for independence from Spanish Colonial rule and Cartagena finally declared independence from the Spanish crown on the 11th of November 1811.
Today Cartagena de Indias is a thriving cosmopolitan city with a word-class status and fiercely proud of its history. As such, in 1984 it was declared a UNESCO world heritage site.