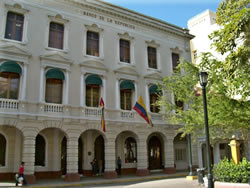 Banking hours in Cartagena are Monday to Friday 8.00am to 12.30pm, then from 2.00pm to 4.00pm. Most banks remain open until 4.30pm on Fridays. The currency in Colombia is the Colombian Peso; in notes this is available in denominations of 50,000, 20,000, 5,000, 2,000 and 1,000. Coins are available in denominations of 1,000, 500, 200, 100 and 50.
Some banks and hotels will exchange $US travellers cheques though their rates tend to be rather unfavourable. It is far better to use an ATM machine of which there are many around the city, including the airport. From these you can withdraw local currency and most have on-screen instructions in an option of Spanish or English. Be selective when using ATM's however, for security reasons it is always advisable to use machines that are located within the premises of a bank as opposed to one that is on the street.
All major credit cards are widely accepted around the city and most banks will accept these for obtaining cash, though this can be a costly option.
Exchange rate as at 22/11/2010: 1$US = 1,863.79 Colombian Pesos