This is a great city to explore so get those walking boots on, grab your map and camera and let's go!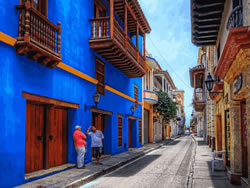 The best of Cartagena is within its city walls; here you'll find plazas, narrow cobbled streets, intriguing shops and some great little places to stop for coffee. A good place to start is at 'Plaza de los Coches', one of the most historic plazas of the city. Here you can brush up on your history whilst sampling some of the famous handmade toffees on sale in the plaza. The 'Museo de Arte Moderno' is a must if you're keen on modern art; otherwise the church of San Pedro is well worth a visit. Another alternative is the Naval Museum which houses many fascinating artefacts and a wealth of Cartagena's history. The nearby 'Plaza de Bolivia' is one of the city's best and a great place to stop for coffee and take in the culture. Moving on, the cathedral and the 'Museo del Oro' (Gold Museum) are great places to get your camera into action. The surrounding area has a number of good restaurants where you can rest and sample some tasty local cuisine.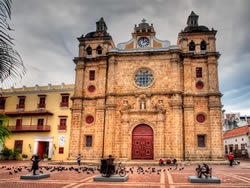 After lunch, head for the pretty 'Plaza de San Diego', there are a number of intriguing little streets in this area where you can browse at leisure and pick up some good souvenirs of your trip. If by this time, if you're feet are feeling a little worn out, a great way to continue your sightseeing is on a 'Chiva' a traditional brightly coloured wooden bus that will take you on a tour of other interesting sites outside the city walls.
Later in the evening when you're fully recovered from all that sightseeing, a great place to dine is at the 'Plaza de Santo Domingo'; one of the oldest plazas in the Americas. The evening atmosphere is unforgettable, with delicious food, wine and traditional music. Alternatively, a horse-drawn carriage is a wonderfully relaxing and romantic way to see the city by night.